Resources to Improve Your Extrusion Designs
Looking for information on aluminum extrusion design and manufacturing? Our resource library offers several free informative guides, technical data sheets, and helpful information for you to download and use.
Aluminum Extrusion Design: 7 Decisions that Increase Your Die Tooling Costs
Detailed guide addresses seven factors that impact the cost of an extrusion die and offers tips to save time and money.
Aluminum Extrusion Design: 6 Mistakes Designers Make & How to Avoid Them
Save time and money by avoiding these six common design issues aluminum extrusion manufacturers see on new profile designs.
3 Toughest LED Lighting Design Challenges Solved Using Aluminum Extrusions
Read how aluminum extrusions can help LED lighting designers & manufacturers build more reliable, efficient & cost-effective fixtures.
Comprehensive Aluminum Extrusion Temper Guide
When considering the use of extruded aluminum, designers should be familiar with aluminum alloys and tempers. Here is a complete list of tempers.
---
Custom Aluminum Extrusion Gallery
Aluminum extrusions offer designers endless possibilities to create the shape they desire and integrate multiple functions into one profile. Custom extrusions can easily incorporate built‐in hinges, screw bosses, receptors, and grooves, and can integrate assembly options such as a built‐in dovetail, snap fit spring, and slots. Here are some examples of custom extrusions we produced.
Linear Guide Rail
This linear guide rail is a great example of how extrusion and fabrication tolerances interact in the manufacturing process.
Custom Roof Rack Rail
This component, which we extruded, cut, stamped, formed and powder coated, is an integral part of our customer's popular roof rack system.
Custom Heat Sink
Extruded aluminum is one of the most popular and cost efficient heat sink methods. This custom extruded heat sink was anodizes, which slightly increases radiation of heat.
Custom Heat Sink
We produce many custom heatsinks like this one for use in electronic devices and lighting products to keep components cool.
Custom Hinge
For this custom hinged component, part of an automobile bicycle rack, we extruded, cut, mitered, stamped, machined, welded and powder coated for our customer.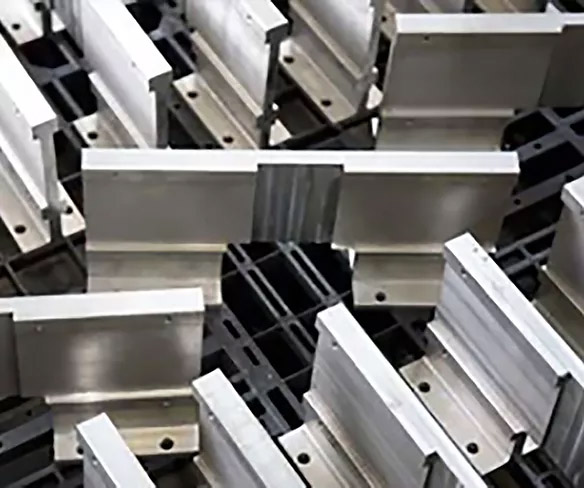 Custom Bracket
This custom component was extruded and machined for use as part of a bracket system to hold an antenna.